Jennifer, a university student, has to get from her off-campus housing to campus for a big test, and she has to get there on time.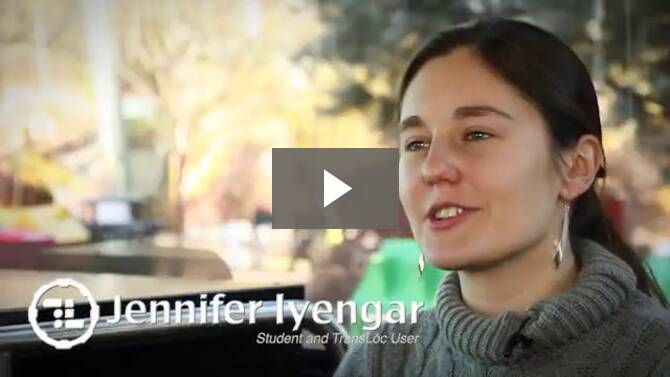 She looks out her window and sees her car – she knows it'll get her there, but where will she park? What if she's late to her test because she can't find a space, and shows up rushed and distracted?
Then she remembers that her university uses TransLōc, so she quickly opens a browser and goes to university.transloc.com for a real-time view of her University's transit system.
With TransLōc, Jennifer's just as in control of her time as in her own car! She pulls up the site, chooses the right route to get her to her building, and checks the arrival time at the stop nearest her house. She still has a few minutes to re-read her study notes one last time before heading to the stop.
When the bus is 5 minutes out, she gathers her things and walks to the stop. She pulls out her smartphone and fires up the TransLōc app. The bus is still on schedule, and should be here in just a minute. In the meantime, she sees an announcement on the app for a route change that affects her Tuesday classes. She makes a note to use a different route on Tuesday.
Here's the bus! Right on time, just like TransLōc said it would be. While Jennifer is on the bus, she pulls out her notes and gives them a final once-over. The bus stops right in front of her building, with time to spare before her test.
While Jennifer's on the bus, the University's dispatcher uses TransLōc's management solution to ensure that her driver is on-route, on-time and operating safely. Jennifer can relax and focus on her test prep, knowing that the whole University transit system is managed and operated with her safety as the utmost priority.
Thanks to the University bus system and TransLōc, Jennifer is ahead of schedule, prepared for her test and doesn't have to deal with the stress of finding a parking space or fighting traffic to her test. After the test is through, she tweets a thank-you to the University for making transit easy and trustworthy.
TransLōc places Jennifer in control with easy-to-use interfaces and reliable data, and makes the bus her first choice – instead of her single-occupancy vehicle.